I was recently visiting a work at home forum when I noticed an offer that was too good to be true! Imagine being promised to be paid $10 just for referring someone to their website via your social media channels! That incredible offer came from kidsearnmoney.co
KidsEarnMoney.co Review – Scam Reports?
Here are some signs that tell you why KidsEarnMoney.co is very suspicious. These are not in any particular order.
(1) They claim to be on Social Media on their website. However, when you follow their Facebook or Instagram links, they go to a page that no longer exists. More than likely, their account has been taken down by FB and IG for Terms of Service violation. This is especially true if they are a scam website. The only working link now is Twitter, but it is only a matter of time before Twitter finds out!
(2) According to their website, their headquarters is located in 420 Lexington Ave, New York City, NY 10170. This address seems to be incomplete. It's a big building with many available rooms. Their posted address does not even give you a room or suite number. So where are they located exactly? Further research on Google shows that spaces from this address are being offered for rent as a "VIRTUAL SPACE" where no mails can be received! That's not reassuring for a business that claims they have an actual headquarters!
(3) The testimonials section on KidsEarnMoney.co is deceiving. Here is a screenshot of a part of their testimonial section as of 02/06/19: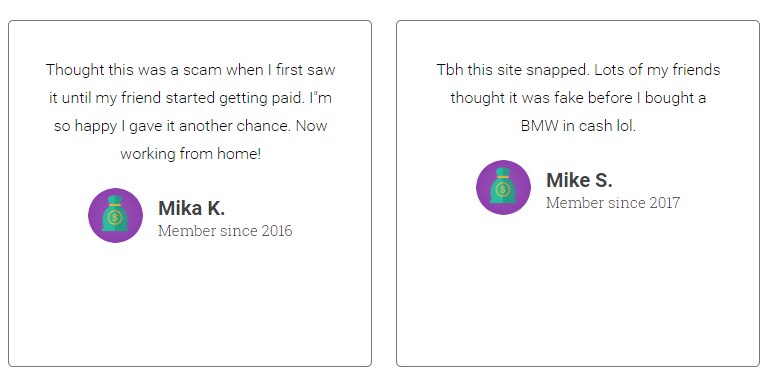 Both of those testimonials claim to be from 2016 and 2017. However, when you look at the WHOIS record for their domain name, it shows that it's only been registered since January 18, 2019! Are they time travelers too?
(4) If they've only been registered recently as discussed above, there sure is no way they can be that profitable in just a couple of weeks of running their operation — especially when they're paying everybody $10 per person that signs up on their website! Furthermore, I think a few weeks is not enough time to claim financial stability for a business that has that much overhead expense on referral fees alone!
(5) Apparently, if you send a screenshot of your Paypal payments as social proof to others, they will pay you an extra $25. That sounds too good to be true! With that kind of promise, they'll be broke in no time! There is no way they can be a stable, legitimate company with such appalling financial practices! I looked at those sample screenshots they gave and I noticed some problems right away…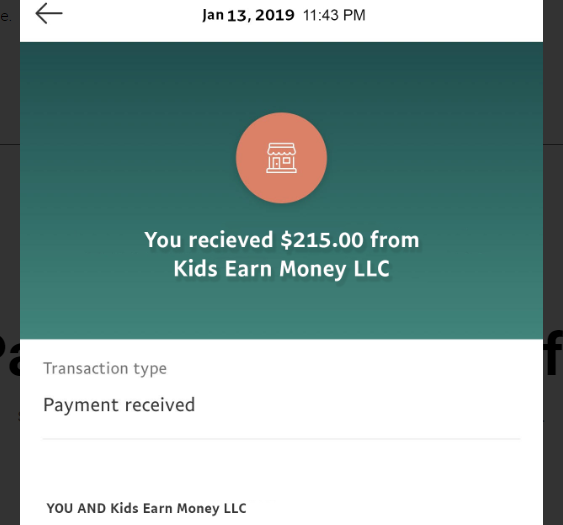 First of all, I have Verified Business account with Paypal so I'm familiar with Paypal payments. The Paypal screenshot above has got all the colors wrong! It's fake! Second, "recieved" is misspelled. It should be "received." Paypal, a multi-million dollar business should be able to afford someone to spell check their website, right?
Final Verdict: KidsEarnMoney.co Is A Scam
I could really go on and on to find more problems and inconsistencies, but I'll just go ahead and stop here. I've already given 5 reasons as to why KidsEarnMoney.co or Kids Earn Money LLC is very suspicious to me. If you want to do more research, just check out a YouTube search on this business. You will find many individuals saying they never got paid! Be careful though, because some videos are folks promoting this business (and I'm assuming this was before they discovered it was a scam after all).
Be very careful about joining KidsEarnMoney.co. More than likely, they are just out there to get your personal private information and then resell them on the black market. Don't fall for this scam!