In this video, I am featuring the Novostella RGB Smart LED Light Bulb. Why pick this over the standard light bulb? Well, if you want to have a lighting experience at home that others don't have, the Novostella WiFi Smart light bulb can liven things up! It will be a conversation piece too, I imagine!
Novostella Wifi Smart LED Light Bulb Features
I just want to list quickly what I like about this smart bulb:
It is bright, but uses only 13 watts. This is a better option than a 60-watt standard light bulb. It will save you on your electricity bills for sure!
Very easy to setup! Install the app on your mobile device, pair the devices so they are connected, and you're good to go!
Control the light bulb multiple ways: via Smart Life app, via Amazon Alexa, or using your Google device. Once paired and connected, you can also use the wall switch if you want to. The bulb will turn on and will remember you last settings. I have ours connected to Alexa, which is very convenient for voice commands.
Set the mood by changing the colors or using preset scenes using the app
You can use white light (bright spectrum) or soft warm light (yellowish range, like a standard light bulb), whichever your preference. That means anyone at home will have a chance to use the setting that they like.
Using the app, you can schedule when to turn on and off the light, if needed
This smart bulb connects to your 2.4 GHz wireless network, so make sure this option is available at your location. At this time, 5GHz is not support — but that applies to most, if not all, smart devices that I know of. If you have a dual-band router, you should be fine.
Overall, I am happy with this particular smart bulb. We use it in our Master bedroom. I used the dining area on the video above just for demonstration purposes and easy comparison.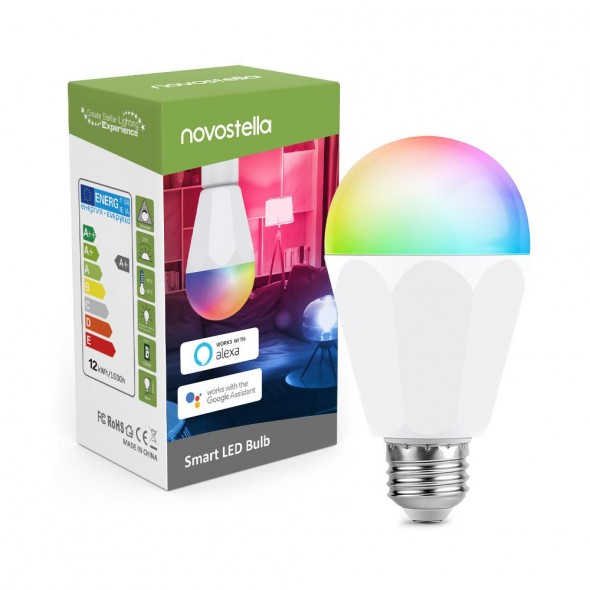 Where to Buy the Novostella Smart LED Light Bulb
Depending on where you prefer to shop, the Novostella Wifi Smart LED Light Bulb is currently available to purchase via 2 different platforms. Just click on the buttons below to buy your own set of these wifi smart LED light bulbs.
* NOTE: I received the above item to facilitate this review. All opinions and photos are my own. Your personal experience or results may vary. Do you want me to review your product or services?
Contact me
today! FTC Disclaimer, Terms and Policies are posted on my site.