---

Winter is coming up, and in many states it's already cold! If you are looking for a basic heater to put up in a room and stay cozy, here is a mini radiator heater that you can use. I am referring to the Trustech 700W Portable Mini Radiator Oil Filled Heater, shown in the pic below.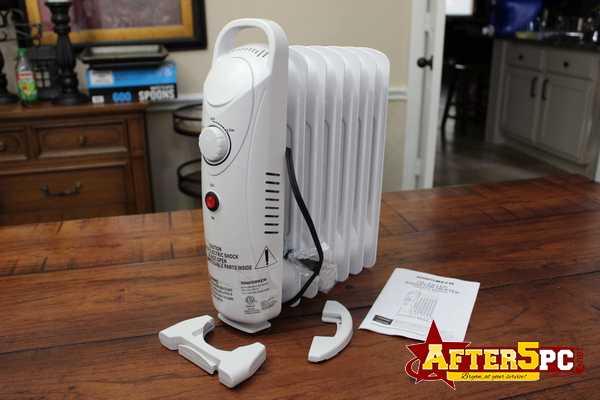 I am glad to report that on my package, I also received an offer for a FREE surge protector power strip if I leave feedback for this item. I sure hope they'll send me one. Apparently, the offer is at the manufacturer's discretion.
Just in case you are curious about what to expect when your package arrives in the mail, here is an unboxing video for this product.
The package will come with 2 attachments. They are very easy to assemble. They will serve as the base feet for this mini radiator heater.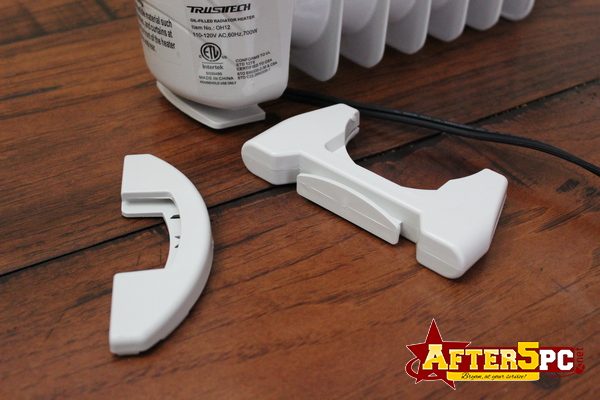 One secures into place, but I guess the other on the back just slips on and off — perhaps so you can adjust the feet depending on the surface. I don't really know why the other fit does not secure in place. I tried flipping it the other way too, but it doesn't stay on. I guess it's just a slip-on feet. That's no big deal. It still works great! You just have to carry one of the feet when you move the heater to another location.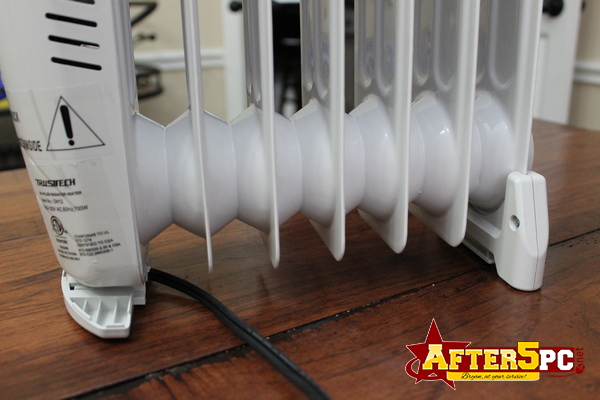 The Trustech Model# OH12 Oil-Filled Radiator Heater is small and portable, which is exactly the point. There's a handle on the front so you can carry and move the heater easily from one location to another.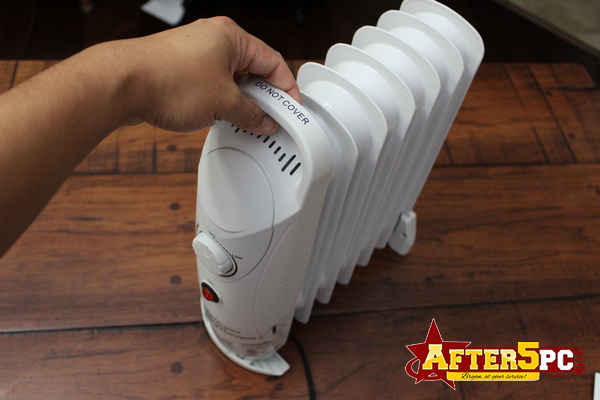 If you are planning to heat a large auditorium, of course, this one's not for you. But for a small bedroom, this is just perfect! The power is rated at 700W and using the heater is so simple and easy. Just turn the power on and pick the level of heat using the thermostat control dial. I have taken a picture of the front panel so you can see the dials and switches.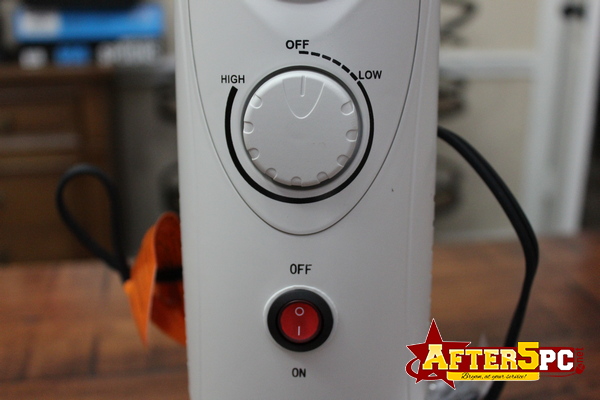 For safety features, I like that the Trustech 700W Portable Mini Radiator Oil Filled Heater comes with a thermal overload protector built-in, which prevents overheating by automatically turning off the heater when an "overheat" temperature is reached. I was concerned about the overheating issue, and I'm glad that they have taken the steps to add safety measures. For your part, just make sure that you don't cover the heater and it's "fins" while using the device, or you're at risk for causing fires. That should be common sense though, right?
By the way, the oil is sealed — so there's no need to change or replace oils. Don't let the "oil-filled" description get to you, as there is nothing to do on your part as far as oil is concerned. It's supposed to be filled with a mineral oil, but the manual doesn't describe which specific oil.
For a small room, this Trustech Mini Radiator Heater does the trick. Remember, it doesn't blow any warm air with fans or anything like that. It is what it is… it radiates heat into the surrounding room. You probably don't want to touch the heater fins while the heater is on. It could get hot. This is best placed in an unobstructed corner of the room.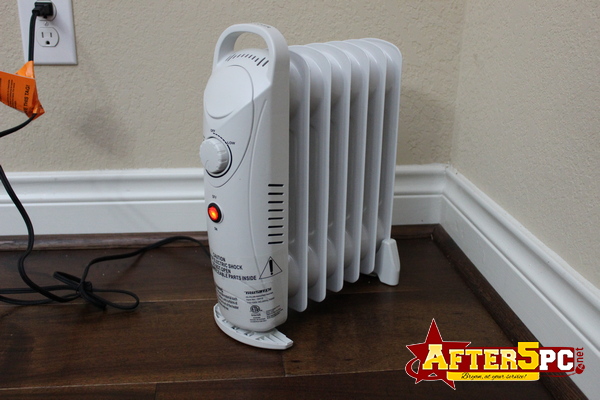 Where to Get the Trustech 700W Portable Oil-filled Heater
If you are looking for a basic heater to put in a small room for yourself, a guest room, or one of your kid's rooms for this upcoming winter, you might want to consider the Trustech 700W Portable Mini Radiator Oil Filled Heater. It is currently being sold on Amazon at the time of this writing, and there's a coupon on the sales page that you can clip to add some extra savings to your purchase. By the way, it comes with a 1 year warranty too! Just make sure you save a copy of your receipt and other purchase details.
* NOTE: I received the above item to facilitate this review. All opinions and photos are my own. Your personal experience or results may vary. Do you want me to review your product or services?
Contact me
today! FTC Disclaimer, Terms and Policies are posted on my site.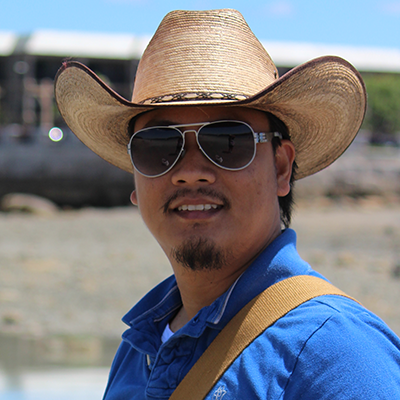 Husband. Father. Entrepreneur. Techie. Mental Health Nurse. Music. Speaker. Isaiah 60:1
I have been providing a range of services for clients with their personal or small business needs on the internet for over 14 years. Contact me if you need anything. You can certainly rely on me wherever you are located in the world. If you have access to the web, I can help you anywhere!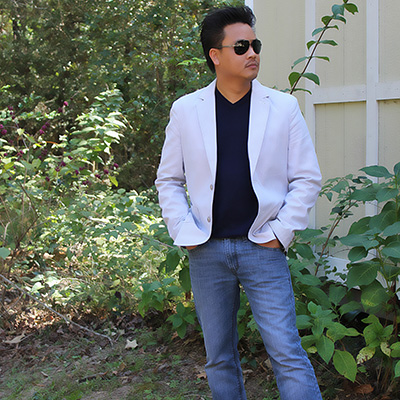 Honestly... I just don't want my website to be like everyone else's!
I know it looks simple and ugly to some, but I don't want the design to look like a major business corporation. It is not. You are dealing with only one person with a big heart! A heart that established this small business through thick and thin... a heart that has endured for the last 14 years. You simply get... me! I will work hard on your project, just like I worked hard to keep this business going. Give me a chance. You won't regret it!