I have seen the HotelsEtc membership offer before and have been skeptical. If you've seen how their website looked like several years ago, you'd be wondering too. But their facelift on the main pages was a good move. The right web design does make a lot of difference. If you need to revamp your website, you can CONTACT ME to discuss your project. But enough of that. How about what the service is like on the inside?

HotelsEtc.com Reviews
Considering that the concept of HotelsEtc has been running for over 2 decades now, I feel more confident in what they have to offer. Sure, perhaps they were not as good when they initially started. But by this time, they would have seen what works and doesn't work, have garnered more agencies into their list, and learned where improvement is needed. In fact, they have more to offer now as I can see.
Hotels Etc Reviews – Membership Plan
HotelsEtc.com currently offers both a monthly or an annual travel discount membership plan. The monthly plan is $19.95, while the annual plan is $199 per year. Subscribe to the yearly membership option and you'll save $40 there. With a membership, you will gain access to a travel engine as well as various business listings they have special discount arrangements with. In fact, they have several categories that you can take advantage of — whether you are flying, staying at a hotel or other accommodation types, renting a car, eating at a restaurant, going to theme parks and attending events, etc. I guess that's why they are named Hotels Etc!
Is the membership fee worth it? If you travel frequently and have a lot of entertainment-related expenses, I think it is safe to say that it is worth it. I'll show you some examples by taking you in to the membership area and showing you some screenshots I have taken while browsing through the services they offer.
HotelsEtc Membership Review – Member Area
While there's a lot more sections to browse in the HotelsEtc membership area, I'll get you straight to some of the booking engines offered on the site. There are 4 options available as you can see in the screenshot below.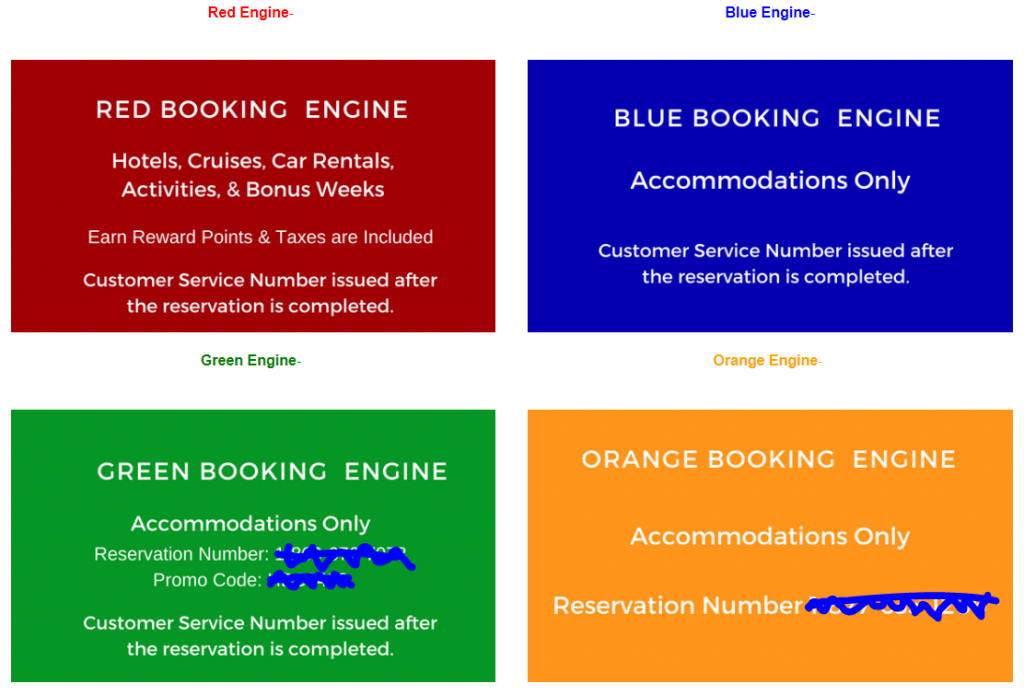 Last Valentine's Day, I wanted to see what difference a membership makes. Keep in mind that Valentine's Day should be a peak day when it comes to hotel reservations. I also attempted to book a hotel room only 2 days prior to February 14. I picked a highly-rated hotel in the downtown Houston, Texas area: JW Marriott Houston Downtown. I went to one of the regular travel booking website online, Hotels.com to complete the checkout process there. I have used Hotels.com a few times in the past and was quite satisfied with my booking experience there. They were offering a sale too so I was excited!
Here's the total from my Hotels.com account after all the taxes and fees…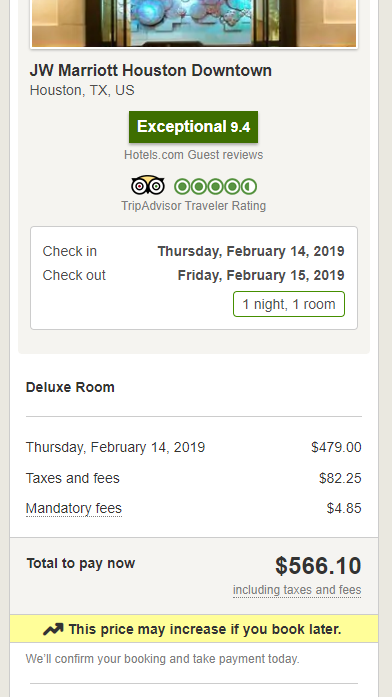 Now here's the experience from my Hotels Etc membership after all the taxes and fees were added…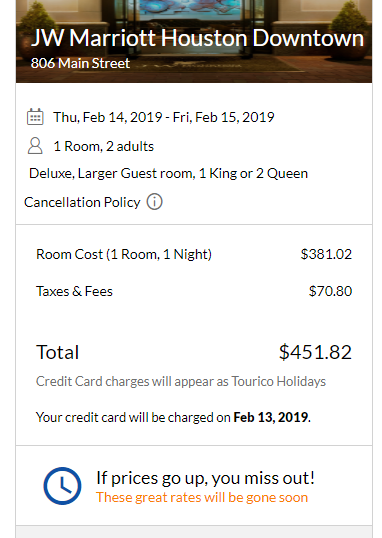 If you do the math, that's a big difference of $114.28! I tried the comparison with a few other hotels in the area and I have the same general results. Most of the time, the prices will be lower. I did notice a few instances when another site may be slightly lower in one hotel, but that doesn't seem to be a general occurrence.
Keep in mind that there are 4 booking engines to look at for the best deal. Some people have complained that this can be inconvenient. Regardless, when I travel (even before the Hotels Etc membership) I still spent a lot of time researching online for the best travel discounts anyway — so the different booking options presented in the membership area doesn't really matter much to me.
Next, I also wanted to try to purchase some tickets to local attractions/theme parks. A Houston CityPASS allows you to access 5 of the top attractions in Houston, Texas: (1) Space Center Houston, (2) Downtown Aquarium, (3) Houston Museum of Natural Science, (4) Houston Zoo OR the Museum of Fine Arts, (5) Houston Kemah Boardwalk OR the Children's Museum of Houston.
Here is my total from the official Houston CityPASS website…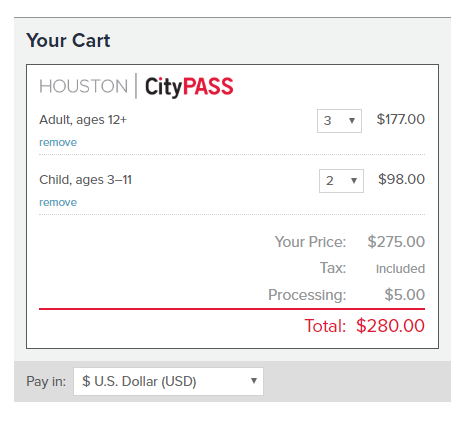 Here is my total from the Hotels Etc membership area…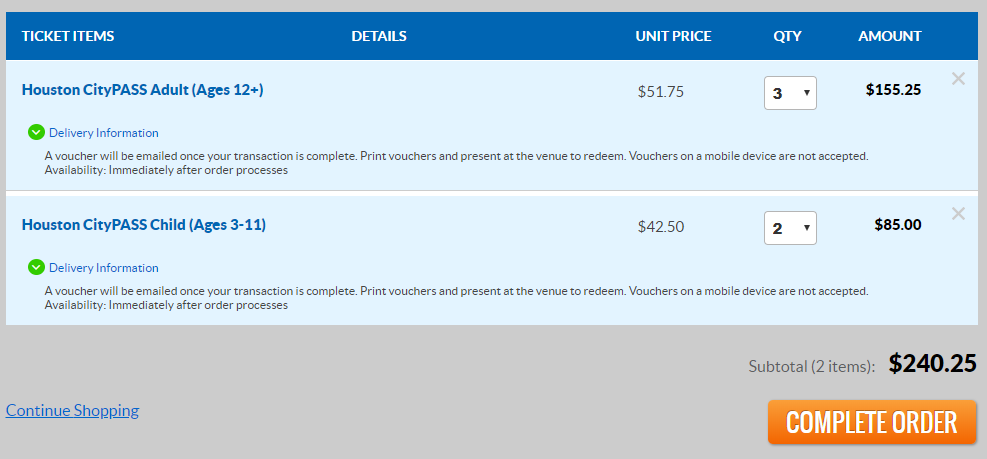 That's a $39.75 difference! For a big family, each ticket will mean a lot of savings! You can use the amount from the savings to do other things! For example, I can use the $40 savings to treat my kids to some food or souvenirs at the parks. I wouldn't otherwise have the budget for that!
Hotels Etc Lifetime Gold Membership Reviews
If you have heard about the Lifetime Gold membership travel discount plan several years ago, that is no longer being offered today. It did cost a lot of money, for those who had the bigger budget to front for it. I don't remember now, but I think they were being offered at $700 plus for that plan. For somebody who was skeptical like me, that kind of money is too big of an initial risk when you are not sure whether a purchase was worth it or not. The good thing about those who have already signed up for the Hotels Etc Lifetime Gold Membership plan is that they have been grandfathered in, so they keep their membership for as long as Hotels Etc stays in business!
Is HotelsEtc | HotelsEtc.com A Scam?
To me a scammer is someone that runs away and disappears after taking your hard-earned money. I'm not sure if I can actually call Hotels Etc a scam in that regard. They provide an ongoing service in the travel discount industry. Hotels Etc has managed to stick around through all the years, through all the negative and positive reviews. It's still in business. It hasn't disappeared. And I think it will continue to grow.
MY FINAL VERDICT: As I have mentioned earlier, if you or your family travel and take vacations often, I think a HotelsEtc.com membership is worth it. The savings alone pays you back!
TO HOTELS ETC MANAGEMENT: If you are reading this, considering that I'm recommending your services, I'd be more than happy to receive some kind of reward. LOL. Perhaps a cash reward or gift card to Amazon? For a cash reward, you can use the Payment Form on my site. Hahaha. It can't hurt to ask! I'd be very happy to hear from you!