This awesome security camera looks like an innocent digital alarm clock, and it is virtually impossible to know that it is also a camera due to material covering its front face. I'm referring to the LIZVIE Hidden Spy Clock Nanny Security Camera, which I received in the mail in good condition.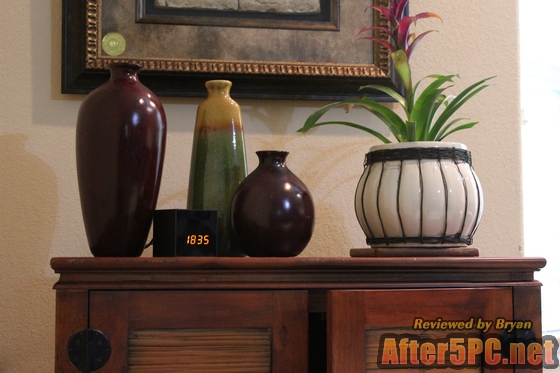 It's got a minimalistic-type design, that is different from the typical alarm clock that has all the large buttons on the top. It's got a modern, clean look, designed as a cube of at least a little over 3 inches. It's small and portable, and as you can see, I can even hold it in my hands.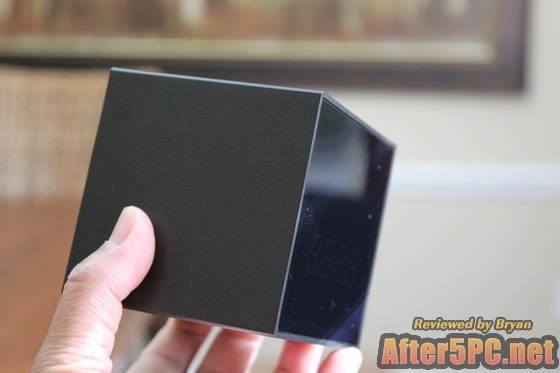 Even the lens is barely visible, and you won't be able to see the camera lens at first glance. A very close inspection (with a flashlight pointed on the face or a light source) reveals that the camera is located on the top part, on the right specifically.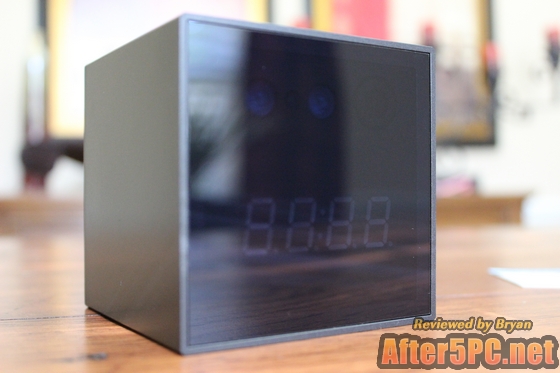 But then again, someone who breaks into your home is going to be in a hurry and is not going to inspect each clocks closely to see if it's a security camera or not. It's very discreet and the face material is glossy-looking, which reflects the light and hides the camera better. In the photo below, you can see that it's reflecting the manual.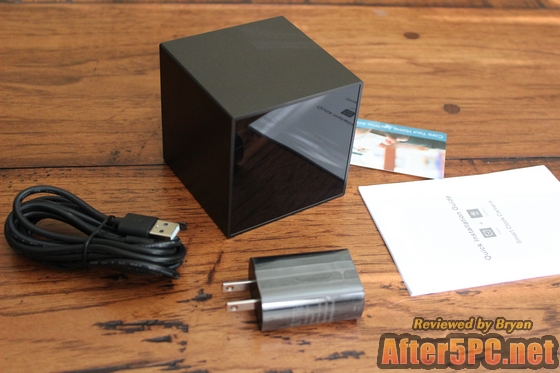 I have this pointed to get a maximum view of the area that I need monitoring. You can see what's going on anytime, anywhere (with a wifi/data connection) using your mobile device or smartphone. I have an android phone specifically, but there is also an app available for iOS option. The LIZVIE Hidden Spy Clock Nanny Security Camera has 2-way audio capability, which means you can hear the sound in the room as is, as well as transmit audio to its speaker as you talk through the app. I have other nanny cams that have no such feature, so this definitely serves a very beneficial function. That means if the kids are fighting, I can tell them to stop, among other prompts I might need. If there happens to be an intruder, I can announce that police are on their way. The speaker is on the back side. The audio quality is great, though you might get a delay depending on your internet bandwidth/speed.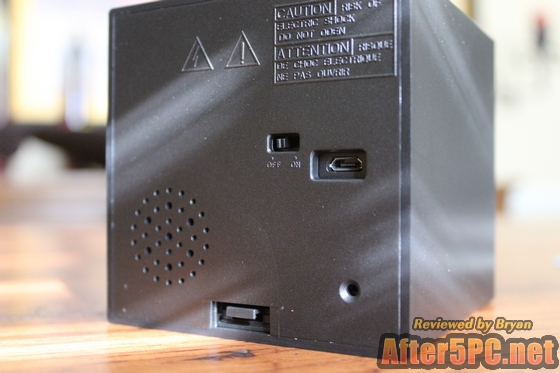 Setup was very easy. Just follow the instruction manual, which provides a step-by-step quick setup method. The Lizvie app itself had, in my opinion, an easy interface and even has a setup tutorial if needed. When you first setup the camera, make sure you remove the back cover to reveal the hidden controls.
It's awesome that this nanny cam comes with a rechargeable battery, as you can see in the photos. My other nanny cams don't have that feature. The battery is a good backup plan when there's a momentary loss of power. By the way, don't forget to pull out the black tabs covering each end of the battery or you won't be able to use it.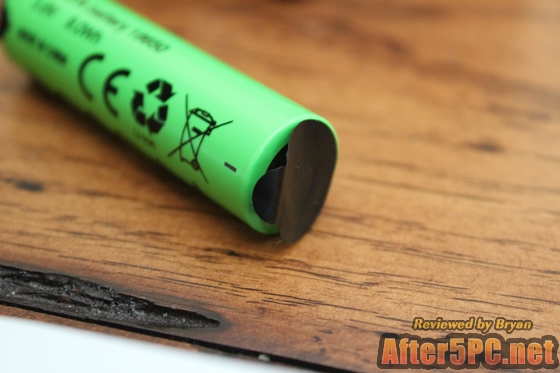 Snapshots Taken from the LIZVIE Hidden Spy Cube Clock Nanny Camera
I also tried turning off the wifi on my smartphone and relying solely on my cellphone provider's network to access the camera. It worked without a hitch. The view was clear on my smartphone. I have an Android Samsung phone. Below are just some snapshots taken from the app.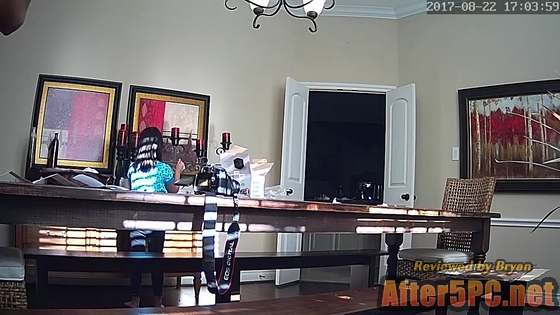 I moved the clock spy camera to another area of the house to test out its night vision capability. Below is the snapshot. As you can see, it's not bad at all. The LIZVIE Hidden Spy Clock Nanny Security Camera has 2 IR LED lights, which makes this camera have night vision capability. However, 2 IR LED lights might not be enough if you have a humongous area in total darkness, so you'll want to use this nanny camera in a smaller room or section of the house if you want a better view at night time.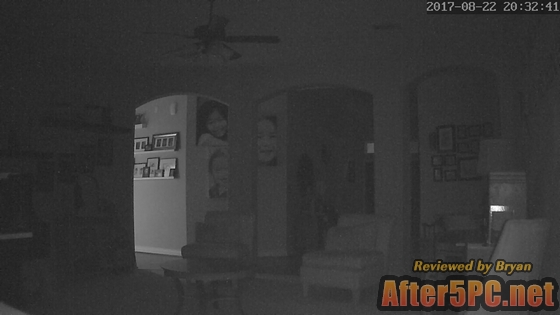 If you want to be able to see though the end of a very long hallway at night in complete darkness, then this one won't be much help. However, putting night lights in the hallway, might help improve nighttime visibility. The result looks pretty good with lightning in the background, as you can see below.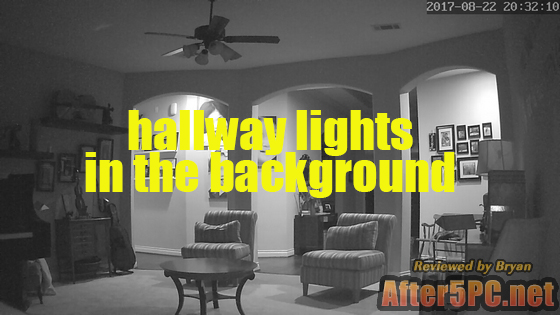 Given it's small size, you can place the LIZVIE Hidden Spy Clock Nanny Security Camera virtually anywhere in the house that is close to a power outlet. It has a long power cord, which is convenient.
Other Features That I Like from the LIZVIE Hidden Spy Clock Nanny Security Camera
– Motion detection: this security option allows you to be able to receive alerts when motion is detected, so you can view snapshots of room activity and view the camera live to confirm before calling police for any emergency.
– SD card recording: You can records captured videos/pics on the SD card for later reviewing and reference. The slot for SD card is in the back panel. I haven't tried this feature, as I'm relying solely on the app to take manual photos and record videos as needed.
– military style alarm clock: You can set clock to military style if you want to, which is useful if that's what you're accustomed to. I work in the healthcare field, and we use military time, so this is not a big deal to me. For simplicity's sake, you can also use 12H option rather than 24H.
– digital style: It's just so much easier to read from a distance or at night when you just want to check the time. Analog is okay too, but it's not gonna be useful at nighttime.
Where to Buy the LIZVIE Hidden Spy Cube Clock Nanny Camera
It is currently being sold on Amazon at a 23% DISCOUNT at the time of this writing.
LIMITED-TIME OFFER: Use the coupon code below for 20% off the posted price!