---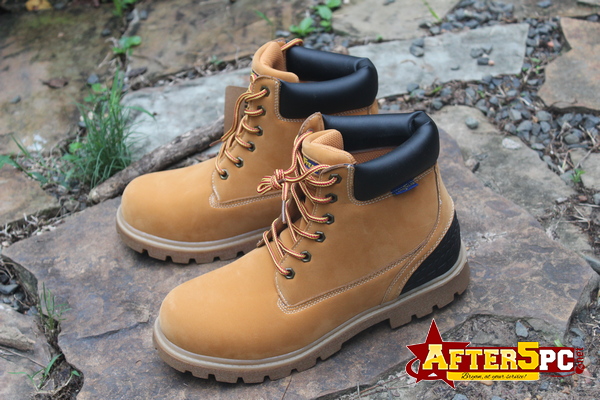 This pair of Goodyear Maverik Mens Work Boots look so good, I just hope they will last for as long as they appear to be. Only time will tell I guess!
I received mine in the mail in just a couple of days with Prime Shipping, and I was impressed at how it looks right out of the box! I think you will be impressed too, and hopefully I've given justice with some of my photos.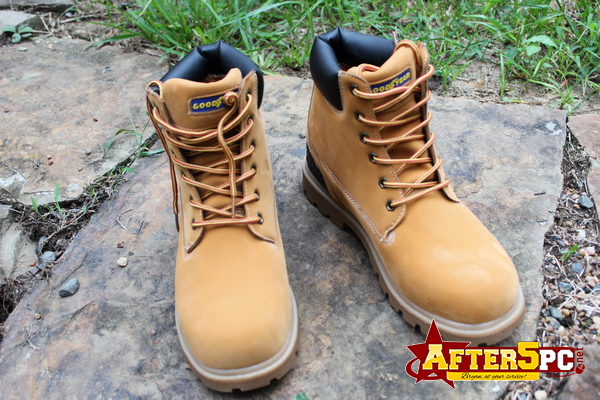 Above is a front view of these pair of boots, while below is a view from the back.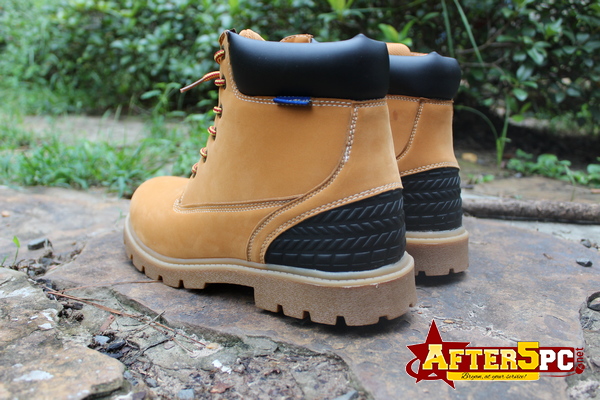 So far, these pair of Goodyear boots appear to be made of good quality material. It looks thick and rugged, giving you that masculine (for the outdoor blue collar worker) or adventurous look (for those who love hiking outdoors). The padding in the back of the high tops is helpful with each step. The colors pop out, and they feel comfortable when worn. By the way, there are NOT steel-toed boots as far as I can tell, just in case you were wondering.
I usually wear size 9 shoes, but they weren't available, so I took a chance and went for size 9 1/2 which wasn't a bad move at all after trying these on. Here's a view of the bottom: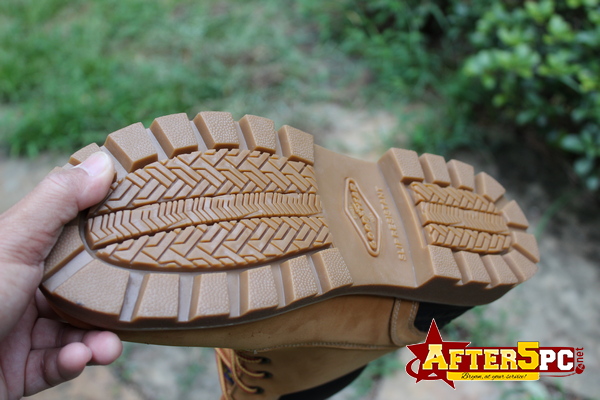 For these kind of boots, I prefer thick rugged soles on the bottom to give you that sense of protection and confidence with each step — especially for the rugged outdoors. The Goodyear Maverik Mens Boots has some nice trackings on the bottom, which helps to provide that non-slip feature.
Again, looks can be different than actual functionality. As I've mentioned earlier, I really hope these pair of boots can withstand the test of time! They look good, and that's all that I can say for now. I'll update this post in a few months if something goes wrong.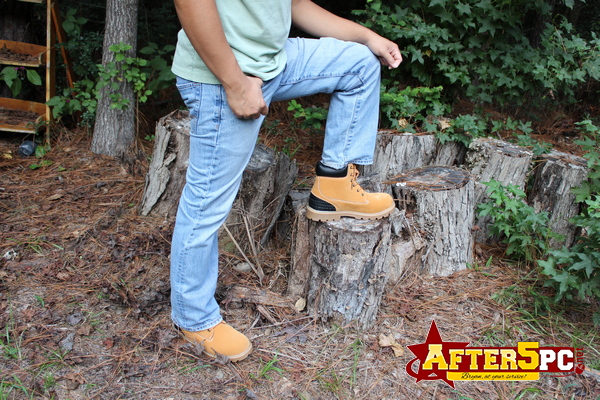 Where to Buy the Goodyear Maverik Mens Work Boots
Some of the shoe sizes available have a Free Return Policy. This quote was taken directly from the sales page: "You can return this item for any reason and get a full refund: no shipping charges. The item must be returned in new and unused condition."
The Goodyear Maverik Mens Work Boots are currently being sold on Amazon. I've noticed that the prices will vary depending on the shoe size and color. Sizes vary from 8-13, but they seem to sell out quickly on some sizes. The color choices are currently Wheat (which is the one I have) and Black.
* NOTE: I received the above item to facilitate this review. All opinions and photos are my own. Your personal experience or results may vary. Do you want me to review your product or services?
Contact me
today! FTC Disclaimer, Terms and Policies are posted on my site.
LEAVE A COMMENT BELOW!