I have a solar bluetooth accessory in my car that is starting to go bad, so I thought of trying a different device that does not rely on solar charging. The SHABA VS-25 Ultra Slim Portable Bluetooth Speaker arrived in the mail without shipping damage, and I was quite excited to test it out.
The package comes complete with all the necessities, including:
– the bluetooth speaker
– a user instruction manual
– an auxillary cord
– a USB cord
The USB cord is to recharge the bluetooth. If you want to, you can attach another media to it and use the speaker with the included auxillary cord.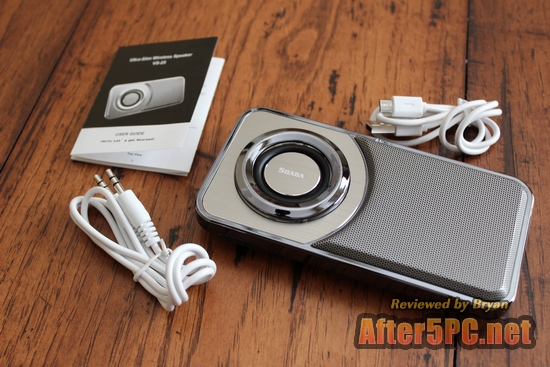 Features of the SHABA VS-25 Bluetooth Speaker
It's got a slim/flat type of design, so it easily fits in a small purse, backpack, or in the pocket of your pants, making it really portable for taking with you anywhere if you need to. For example, I will mainly use this SHABA VS-25 for my car, but I could also take it with me on family trips where I could set this up on a picnic table for a relaxing day in the park. I could also take this inside a home and listen to music or use the speaker when watching movies on my mobile device. It has a mini stand that you can fold out from the back.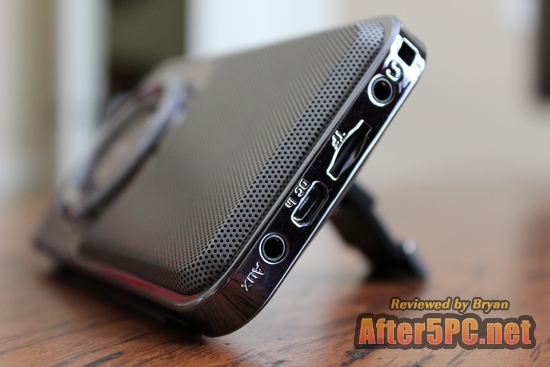 Speaking of music, it comes with a built-in antenna for FM radio, which I thought was a good bonus feature to have. My previous bluetooth device didn't have that option. Scanning for FM channels was easy too, and the SHABA VS-25 was able to pickup most, if not all, of the stations in my area without problem. When you scan for the first time and follow the instructions on the manual, you'll be able to save in its memory those FM channels that were scanned. We have a stucco home with a wire mesh that usually blocks signals, so I was definitely surprised when this device picked up some channels as soon as I started the scan.
If you don't want to listen to FM radio, then it also has a slot for a TF card. If you have music files on a card, then you can plug this into it and listen to your music. I don't have any music on TF cards, so I won't really use this feature, but it's good to know that I have it there just in case it's needed in the future.
As far as button controls, everything is pretty much laid out for you and marked accordingly, depending on the function you need. Nonetheless, I suggest not losing the instruction manual, for future reference.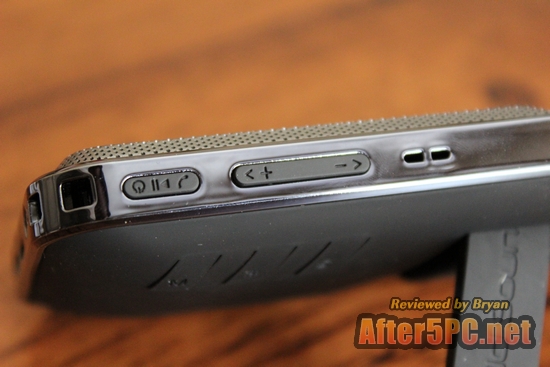 There are also button controls on the back side. Here is a photo of the back, so you can get an idea. You will also be able to see a pic of the stand, which can fold in or out for use.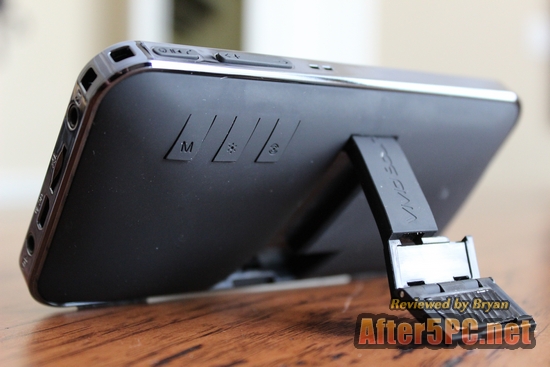 As far as sound is concerned, it's got a bass tone to the speaker. I'm guessing the bass is mostly coming from the left side — the circle speaker area on the left that you see in the photo — which is the one that visibly vibrates when rich bass is present. The bass speaker makes a whole lot of difference! The volume is pretty decent for its size. It's got a built-in mic, so you can use this as a bluetooth for phone calls. Call quality was mostly clear, at least according to the person on the other end. Sometimes, there were complaints of echo and going in and out at times, but that frequently happens with my smartphone and network connection, so I'm not sure if the problem is with my phone and service or the device. Overall, I am told that it is loud and clear. I had a Motorola brand slim type of bluetooth speaker in my car, and surprisingly the SHABA VS-25 surpassed it in speaker clarity. I did not expect that! Of course, only time will tell with these types of devices so it remains to be seen.
Where to Purchase the SHABA VS-25 Portable Bluetooth Speaker
Wanna get your own without spending $80 or more for a brand name? The SHABA VS-25 Portable Bluetooth Speaker is currently being sold on Amazon.com at a 70% discount at the time of this writing.