As you might have noticed, almost every kid these days have a fidget spinner they are "fidgeting" with. It's gone to the point where everywhere I look, I can see fidget spinners spinner all over the place, especially when I'm in an area with a lot of children like a school or playground. I thought the craze would end, but it hasn't slowed down in my area. For the parent who is still considering, here's a better one I'd recommend: the NUBARKO Fidget Spinner.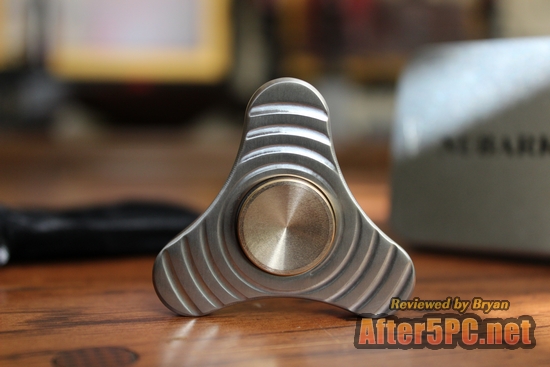 Why I Like the NUBARKO Fidget Spinner Better
The NUBARKO Fidget Spinner is a much smaller fidget spinner than the ones you might have seen being sold in the mall, flea market, or gas station (yes, even some gas stations are selling them now!). Compared to the one that my brother-in-law bought for my girls from the mall, the NUBARKO Fidget Spinner is about half of that standard size — so I guess, in essence you can call this a mini fidget spinner. In fact, it's small enough that it makes it easier to spin the toy with the fingers of just one hand — holding and spinning. The size itself makes it unique, so your kid will have something to show off!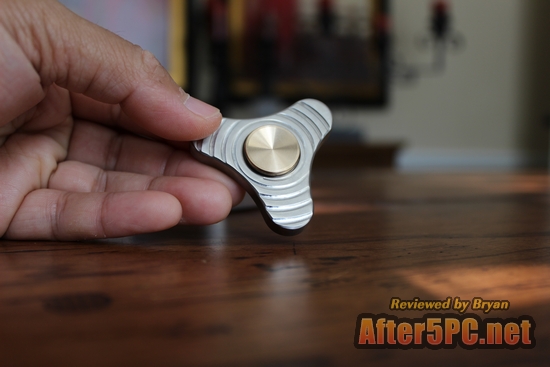 The NUBARKO Fidget Spinner is not shrink wrapped or packaged simply. In fact, it is packaged to make an awesome gift impression. Your child will feel like he or she is opening a professional spinner! What a way to make them feel excited or special!
The package set comes with an aluminum-type of container, which is already a bonus because kids also like playing with container boxes — so it's like buying them 2 toys! Then there's the little black "bag" case that comes with it too! It's a great way to keep the surprise going when they open the gift package!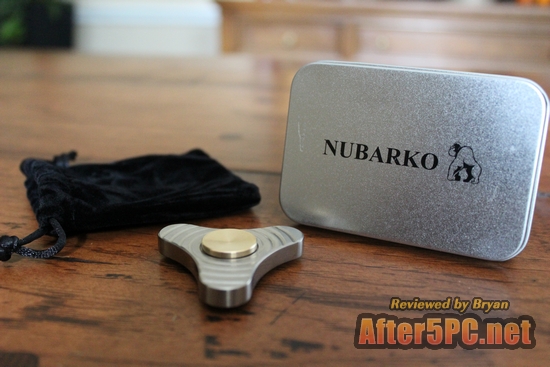 When it comes to safety, the NUBARKO Fidget Spinner is a better option in my opinion. It doesn't have little bits and parts that might come off and fly off, just like the other spinners out there. I'm sure you may have received viral emails warning you of those dangers. This one doesn't have the parts that those emails are referring to, so there is less likelihood of a problem (of course, anything can happen for as long as we live in this world!)
It is also made of titanium and brass, which should make it last longer. The plastic one that my daughter had is starting to fall apart. If you're going to invest on this type of toy, you might as well try to get something that is not made of plastic, if you ask me!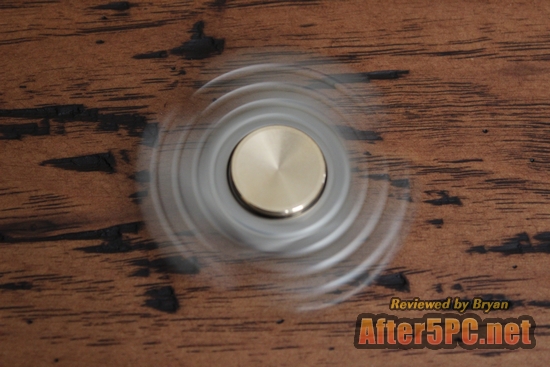 One of the other features that I've noticed with the NUBARKO Fidget Spinner is that it spins way much longer than the plastic ones. The longest I've timed this with one spin is a duration of 2 minutes and 22 seconds. It outlasted the plastic fidget spinners by more than 3x in some cases! Your kid can have bragging rights!
Where to Purchase the NUBARKO Fidget Spinner Online
If you're in the market for a fidget spinner, or if you're looking for a new toy for your child, the NUBARKO Fidget Spinner is something to consider. It is currently being sold on Amazon.com with 3 different color options to choose from. I have the original version, but there's 2 others that you might prefer.