I don't smoke cigarettes, but I have this lighter for emergency reasons. I carry a backpack of emergency supplies that I keep at home or take with us during travel and vacation trips, and a lighter or match is one of the important things on the top of the list. I messed up once and forgot to replenish during our summer vacation and ended up not having a lighter. Now, I am ready with this CDXXUSA Electric Flameless Rechargeable Emergency Survival Lighter in stock.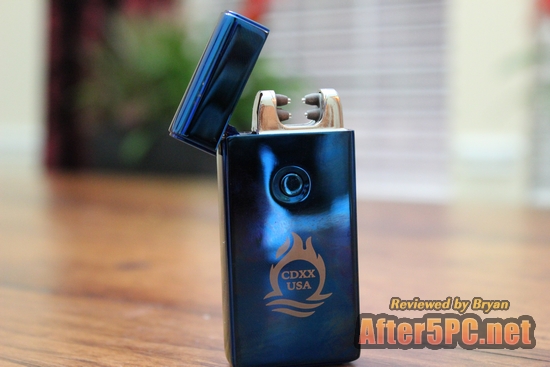 Features of the CDXX USA Electric Flameless Rechargeable Emergency Survival Lighter
I don't want to sound like a little boy who is excited to have a new toy… but this electric lighter is awesome! Just one push of a button and you can see the bluish-purple flame light up right in the middle in an instant.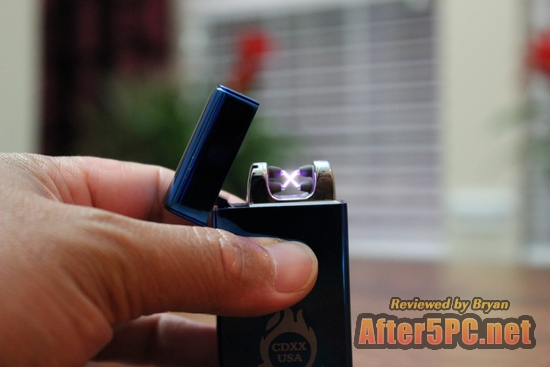 It burned a paper quickly and it was so easy to use! I was told this was due to the dual arc design, which means it lights up faster and stronger than a single arc design. In fact, the light is about instantaneous as soon as I pushed the button on the side of the lighter. Here's another angle of the dual-arc and lighting: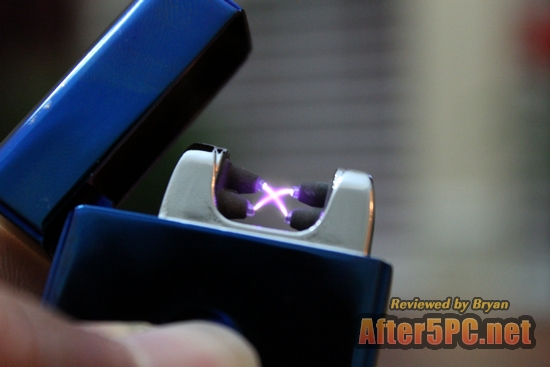 I was excited to show this to everyone in the family because it's not like the traditional butane lighter. You don't have to struggle and fiddle to keep the lighter lit. You don't have to worry about striking a matchstick to a matchbox. Even the magnesium strikers can't compare to this, in my opinion. It's so easy and effortless.
It looks great too, if you ask me! Just the encasing itself is something to note. I received the Etheral Blue version, which looks slick and shiny with its blue metallic look, it deserves its own attention.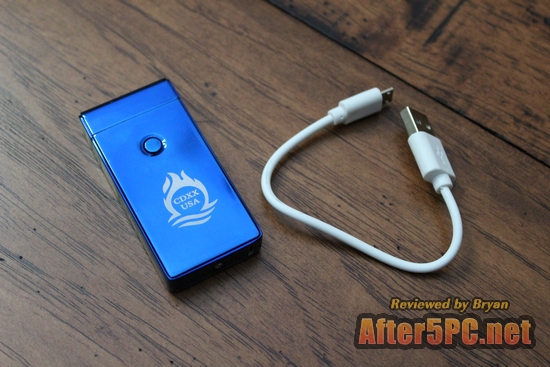 What's even better is that you can actually recharge the unit. It comes with a small length USB cable (though I wish it also came with a longer USB cord). It's just a matter of plugging in the included USB cable to recharge the device. Don't know how long the light will actually last before it stops taking a charge, but at least I know that I won't have to be buying liquid lighters for some time.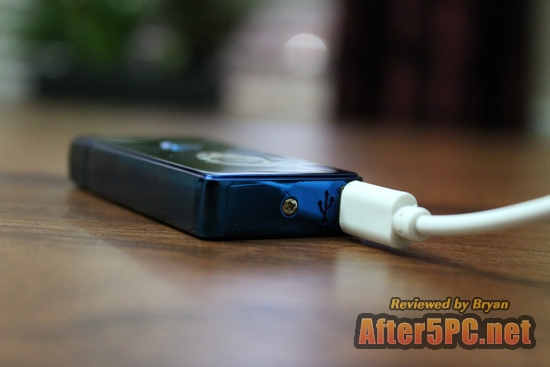 By the way, did I mention the package also comes with a USB car charger adapter? You can plug this into your vehicle and recharge not just the lighter but also other devices. There are 2 power inputs, depending on your needs: 1.0A and 2.0A
The only downside to this electric lighter that may be cumbersome for some people is that sometimes you might have to light something that won't fit in the small space in the middle. To me — for the other conveniences it offers — it is not such a big deal. Just burn a piece of paper or other material first using the electronic lighter, then use that paper to light the other object.
Where to Buy the CDXX USA Electric Flameless Rechargeable Emergency Survival Lighter and Coupon Code
Overall, I love this thing, and if you're thinking about a gift for someone who likes gadgets, I think this will impress. I recommend it for sure! It comes in a nice box, so it will be great as a gift too!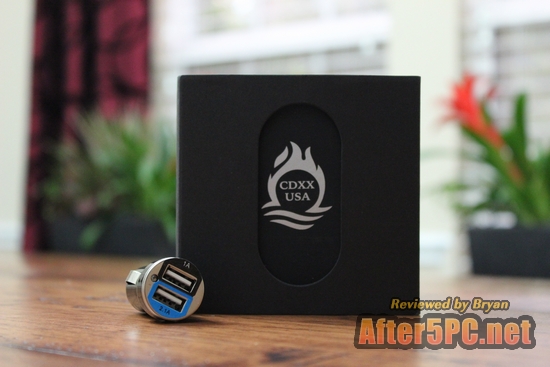 For a limited time, use this coupon code "LIGHTER1" when you purchase through my link below and you'll receive an additional 50% off on Amazon's already-discounted 50% off price. You're looking at $10 instead of $39.95. Isn't that awesome?!