---

You might not want to belittle this BOHM S4 Bluetooth Speaker because of it's small size. The compact size boasts a power of 12 watts, which is a good amount of power for a room or an open-area type of house. I received my package in just a couple of days, thanks to my Amazon Prime. When you open it, you should see the following contents: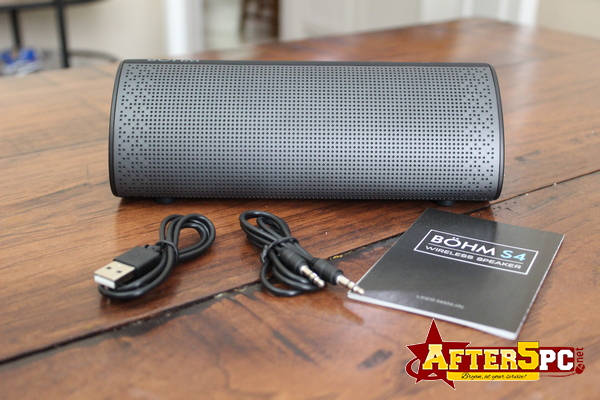 – the bluetooth speaker
– a manual
– an aux cord
– a USB cord
The BOHM S4 delivers some rich bass sounds too, so you won't just hear the higher treble sounds. The bass comes from the 2 lateral mini sub-woofers that are on each end of the device. The main speaker is on the front of the unit. Overall, the speaker is loud and clear, and can handle movies, music, and other sounds you want to project. My kids were watching TV nearby and they begged me to turn down this speaker when I was testing it. It packs a nice power in a little compact size!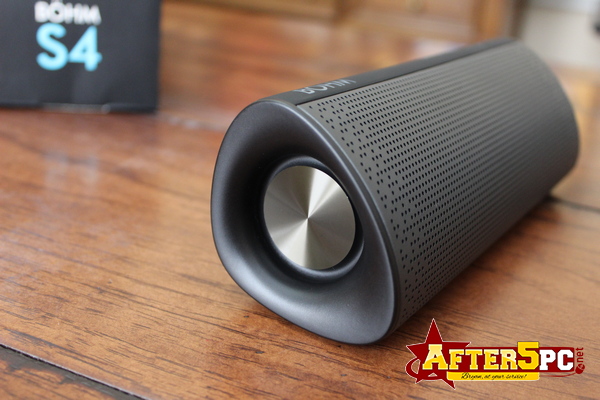 Pairing the BOHM S4 Portable Wireless Bluetooth Speaker is easy, and the LED lights provide a convenient guidance. The LED lights provide several useful functions:
A flashing blue light tells you that the device is reading for pairing. This will turn steady once paired and will remain that way until the device is disconnected again.
Green light turns on when a Line-In connection is being used. For example, when using the aux port.
Red light stays on while the device is charging. It also has a battery symbol. This light will finally turn on once the device is fully charged
A green and blue light will flash to warn you of a low battery. This is a nice warning sign.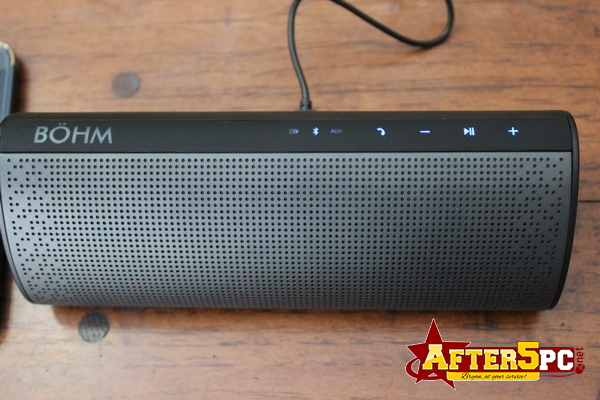 Additionally, I like that I can use the bluetooth to answer calls too, giving a hands-free option. This is great, especially when I'm trying to work on some projects in my home office at the same time. It's like having a conference speaker.
Another feature that I like about the BOHM S4 Portable Wireless Bluetooth Speaker is that it comes with BOTH a line-in connection and a line-out connection. You can connect another device using the included aux cord and take advantage of the nice speaker system in a wired setting. For example, I can connect a keyboard to this bluetooth for a stronger sound when needed in a small room. If you need more power, you can also connect the BOHM S4 to another speaker using the LINE OUT port and you now have a more powerful system. I can find this useful in a small gathering in church or something similar like that.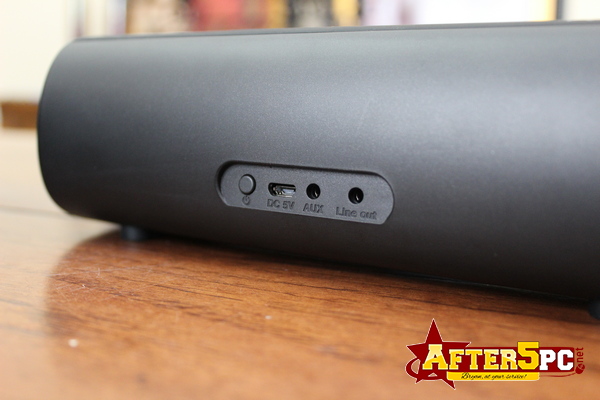 At the moment, I use the BOHM S4 as my primary computer speaker by connecting the device using the aux cord included. I didn't like the little speakers that I originally bought for my computer. This one sounded much better, and it also decreased the clutter in my office space.
The bluetooth didn't come pre-charged, so make sure you charge the unit for at least 3-4 hours before initial use. The USB charger cord is included, but you'll need a USB power adapter to connect it to. If you don't have one, you can plug in the BOHM S4 into the USB port of your desktop of laptop computer. I happen to have both.
Where to Buy the BOHM S4 Portable Wireless Bluetooth Speaker
If you are on the market for a wireless bluetooth speaker, you might want to consider the BOHM S4. It is currently available on Amazon with Free Shipping at the time of this writing.
* NOTE: I received the above item to facilitate this review. All opinions and photos are my own. Your personal experience or results may vary. Do you want me to review your product or services?
Contact me
today! FTC Disclaimer, Terms and Policies are posted on my site.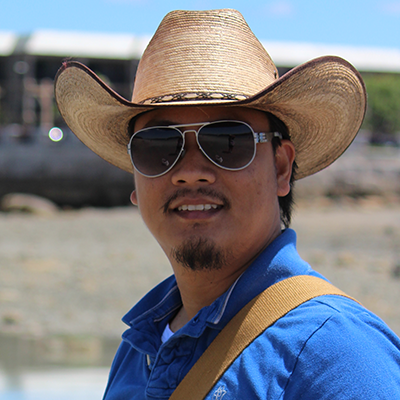 Husband. Father. Entrepreneur. Techie. Mental Health Nurse. Music. Speaker. Isaiah 60:1
I have been providing a range of services for clients with their personal or small business needs on the internet for over 14 years. Contact me if you need anything. You can certainly rely on me wherever you are located in the world. If you have access to the web, I can help you anywhere!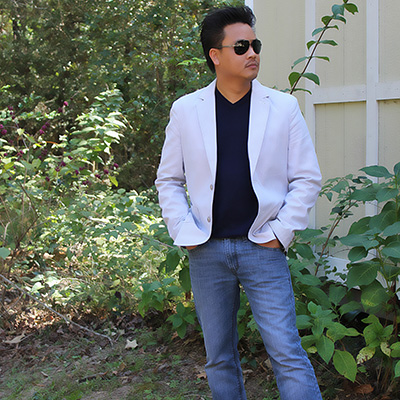 Honestly... I just don't want my website to be like everyone else's!
I know it looks simple and ugly to some, but I don't want the design to look like a major business corporation. It is not. You are dealing with only one person with a big heart! A heart that established this small business through thick and thin... a heart that has endured for the last 14 years. You simply get... me! I will work hard on your project, just like I worked hard to keep this business going. Give me a chance. You won't regret it!