Pictured is a tweezer from 42 BEES. It comes with a clear tube case, for storage purposes, if you prefer to keep it in there. You will like this one, I'm pretty sure…


I never realized how advantageous it is to have a slanted-tip tweezer. Many of the tweezers my wife have had at home were just a regular straight tip. However, having a slanted tip makes ergonomic sense. When you're pulling on something with a tweezer — whether a hair, splinter, black heads, etc — more than likely your arm is positioned at an angle that is not 90 degrees. This tweezer from 42 BEES has a tip that is positioned at an angle, so you end up making better use of the area available on the tweezer tip. A slanted tip also allows you to have an advantage over hard-to-reach annoyances, such as a splinter, where you can focus the edge of the tip and get a better grip on the splinter.


For the ladies who spend a good deal of time on their eyebrows, you'll like the fact that this tweezer has, on the other end, a "mini comb" (that's my own word for it) to give your eyebrows a quick touch-up. I don't really care about mine, but I can see how helpful this can be for the ladies. So why would it matter to me then about having this in my home, when I don't mind too much about my own eyebrows? Well, being a "multi-purpose" tweezer, having this at home will benefit everyone at home — whether male or female. So it's a two-in-one deal in my opinion, and nobody loses.
This tweezer is also styled in black, making it look more classy than the chrome-finished tweezers that are widely available in stores. In fact, we had one tweezer I threw away because the chrome started flaking off! You don't have to worry about that with this tweezer.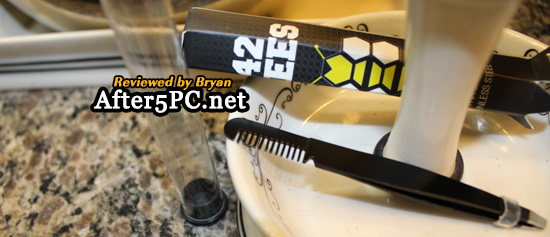 If you are interested in adding this to your hygiene accessories, the 42 BEES slanted-tip tweezer is currently available on Amazon. It's being promoted at a 66% discount at this time.
LIMITED-TIME OFFER: Do you want to take part in a giveaway of this product? Post a photo on your Facebook and link to this review when you get it. Contact me for details.