So I've recently decided to do a video ranking project for my own business for keyword "web design kingwood texas" just to show you what I can do for your own local small business… and so far, I've been very satisfied with the results and can't want to share them with you!
RESULTS FOR web design kingwood texas
UPDATE 2/28/17: It has been consistently on Page 2 now on Google for web design kingwood texas.
PREVIOUS:
I just started the video SEO project a little over 20 hours ago, and as of 2/22/17 it has jumped up 80 places and is currently hanging on to the 2nd or 3rd page. It bounces up and down those 2 pages… but ultimately, the goal is to have it on the first page of the search engine results.
Here's the Google search result for web design kingwood texas so you can check it out for live for yourself.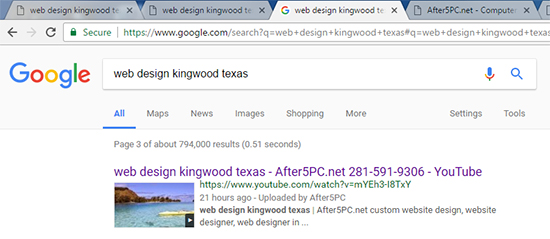 Isn't that awesome? I know I'm definitely happy with that! Would you like to achieve the same results or better? I'm sure you'd be as excited as I am!
Do You Need SEO Services?
Get your business or services in front of people! Gone were the days when people flipped through a phone book like Yellow Pages to search for specific types of business or services. People use the internet now and perform a Google browser search to find what they need. Take advantage of this trend and make sure you are seen on the first few pages in the search engines. CONTACT ME today for Video SEO Guaranteed Page 1 Google Search Engine Ranking services.
Other Professional Services Offered
By the way, if you need other types of services in Kingwood Texas or surrounding areas, including the Houston metropolitan area, don't hesitate to contact me.
I am looking forward to working with you! I am your all-in-one source for pretty much everything for your personal or business needs!