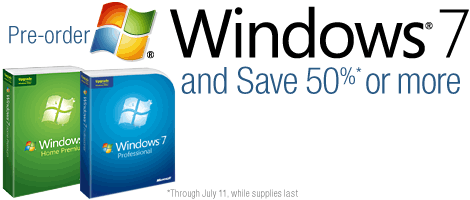 Microsoft's newest operating system, Windows 7, is officially available for preorder starting June 26, 2009. To support this launch, two editions, Home Premium and Professional, will be made available for 50% off or more. This offer will last through July 11, 2009 or while supplies last, whichever comes first — so you better act fast if you want to get in on this very good deal! Windows 7 is a truly exciting new Microsoft launch with great new features including Jump Lists, Aero Shake, Snap, new Device Stage Management, as well as new levels of home group network interaction.
To find out more about Microsoft Windows 7 and learn all the features it has, CLICK HERE.
Here are other direct links, for your convenience:
Windows 7 Home Premium Upgrade
Windows 7 Professional Upgrade
Limit is 3 per customer.
Microsoft Windows 7 is scheduled to be released on October 2009. List price will be $119.99 — so act now if you want to save 50% or more on this preorder special deal.